3 Best Recipes to Pair with Chardonnay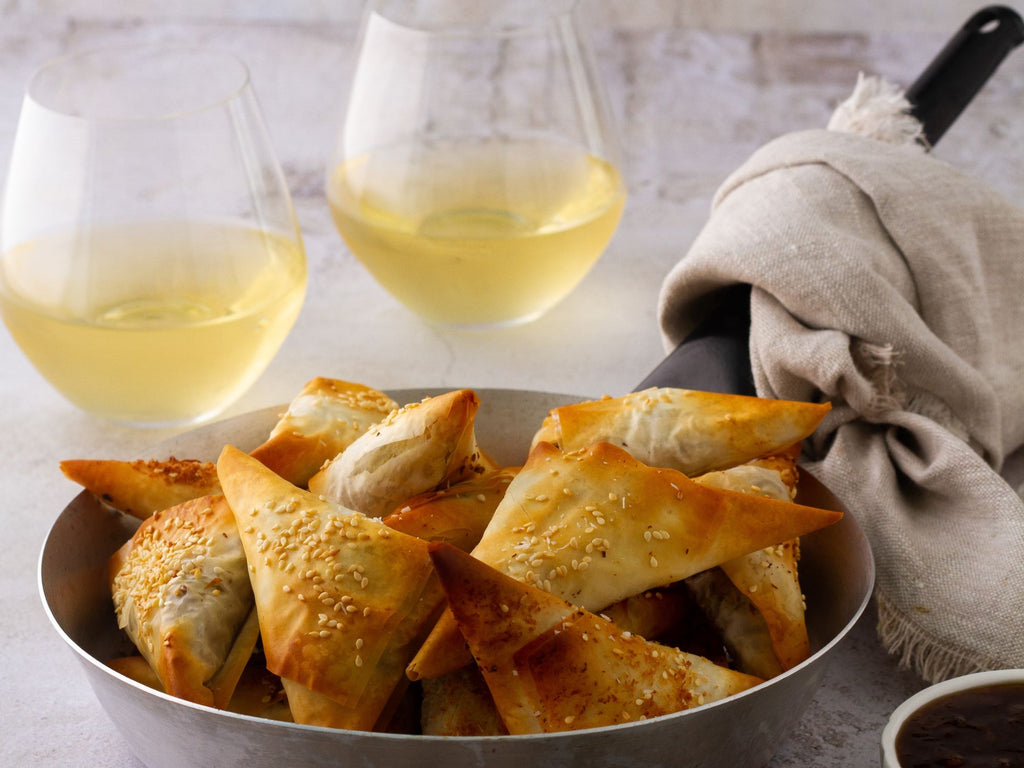 Chardonnay is a loved varietal of wine the world over and comes in many different drinkable styles. But what keeps wine-lovers coming back for more is its distinct creaminess, lingering buttery flavours and depth thanks to French oak barrels. 


Add these delicious recipes to your weekend family cooking time! Made to be shared and enjoyed with your favourite chardonnay.


CITRUS SPICED FRIED CHICKEN WINGS


Serves 6


INGREDIENTS


1 medium sweet onion, sliced
3 cloves of garlic, crushed
½ cup instant flour (for dusting wings)
2-3 cups peanut oil (any high-smoke-point oil, such as canola or grapeseed, may be substituted)
Blue cheese crumbles for garnish 
Celery sticks for garnish
Citrus segments for garnish (optional)


FOR THE SAUCE


Salt to taste


METHOD


In a non-reactive bowl, combine chicken wings with salt, sugar, onions, thyme, bay leaves, anise and garlic; toss to distribute evenly.
Cover bowl with plastic wrap and refrigerate for 24 hours.
Remove wings and discard aromatic marinade. Wipe any excess salt and sugar from the wings and lay them on a wire rack. Refrigerate for another 24 hours uncovered. (The refrigeration step may be omitted, but The skin will not crisp as well.)
When ready to serve, fill a heavy-bottomed pot to a depth of 2-3 inches of oil and heat to 375 degrees. Dust wings in Wonda flour and set aside to allow to coat.
Begin to prepare sauce. In a separate heavy-bottomed pot, reduce orange juice by three-quarters over medium-high heat. Combine all sauce ingredients with orange juice reduction and heat until just warm. Season with salt to taste.
Fry wings at 375 degrees until cooked through and crispy; about 11-13 minutes. Transfer wings with a slotted spoon to a paper-lined tray to drain excess oil.
In a non-reactive bowl, combine wings and sauce and toss to coat.
Serve with celery or citrus segments, blue cheese crumbles and additional sauce.


FRIED CALAMARI TAPAS WITH SMOKED PAPRIKA


Serves 2


INGREDIENTS


1/2 cup all-purpose flour
1/2 tsp sweet smoked paprika
handful freshly chopped parsley


METHOD
Pat down 2 tubes of cleaned squid with paper towels, then cut each one into 1/2 inch thick rings, add 1/2 cup all-purpose flour into a clear plastic bag, along with 1/2 tsp sweet smoked paprika, a generous pinch of sea salt and black pepper, add the squid rings in there and mix until all the squid rings are evenly coated, heat a small fry pan with a medium-high heat and pour in 1/3 cup sunflower oil, after 3 minutes start cooking the squid rings, cook them in batches to not overcrowd the pan, after 90 seconds flip the calamari and fry for another 90 seconds, then transfer to a dish with paper towels and continue to fry up the rest of the calamari, once they are all cooked transfer to a serving dish, garnish with a couple lemon wedges and sprinkle with freshly chopped parsley.


BOBOTIE SAMOSAS


Serves 6


INGREDIENTS


1 large onion, peeled and coarsely grated or chopped
4 tsp medium curry powder
1/2 tsp mixed dried herbs
1 tablespoon sesame seeds


METHOD

Place the meat, onion, garlic and spices in a larger non-stick frying and stir-fry over moderate heat for about 5 minutes or until the meat is loose and crumbly.
Add the curry powder, turmeric, coriander, ginger, fresh herbs and chutney. 
Fry until golden brown. Season to taste with salt and pepper.
Brush the top of one phyllo sheet with some of the melted butter. Lay a second phyllo sheet on top; brush with some of the melted butter. Cut layered phyllo horizontal wise into 4 equal strips.
For each strip, place 2 tablespoons of filling on the bottom part 1 cm from the edge. Fold bottom right-hand corner of phyllo diagonally over filling so that bottom edge meets left-hand edge and forms a triangle. Fold triangle upward. Continue folding the triangle diagonally and upward until the end of the phyllo strip is reached. Brush tops with some of the melted butter. Repeat procedure with remaining phyllo sheets, melted butter and filling. Sprinkle with sesame seeds.
Preheat the oven to 200C. Line a large baking sheet with baking paper. Place triangles, seam side down, on a prepared pan.
Bake for 12 – 15 minutes or until golden brown. Serve immediately with chutney and coconut.