5 Romantic Date Ideas This Valentine's Day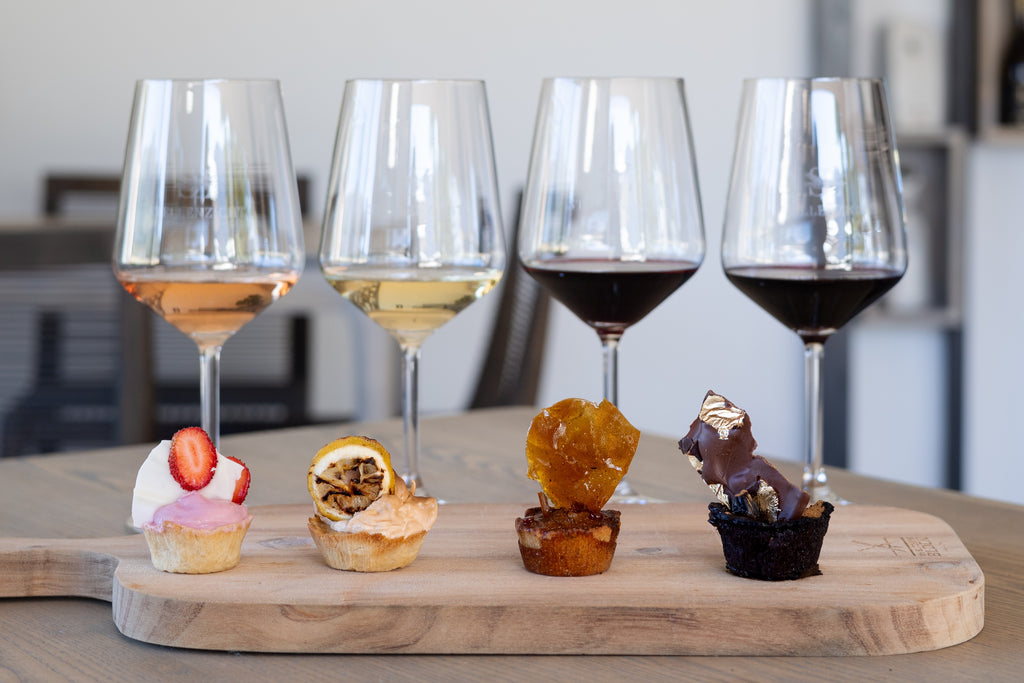 Valentine's Day is around the corner and trying to find a unique yet romantic setting for date night with your significant other can be daunting - there's just so much to choose from! So, we've narrowed it down to some of our favourite Valentine's Day date ideas, day or night. Trust us, the winelands is oozing with romance so you can't go wrong with any of these suggestions! It's a pleasure. 
Dinner at De Warenmarkt
De Warenmarkt is a restaurant situated in a cherished 18th century historical building in the heart of Stellenbosch's vibrant cultural district. De Warenmarkt is home to a collective of diverse merchants, each passionate about their craft.
Inspired by the Cape of Good Hope's legacy as trade post along the maritime route that led to the alluring Spice Isles, De Warenmarkt brings you a range of delectable speciality meats, crepes, baked goods, craft beer, coffee, fresh Saldanha Bay oysters, sparkling Simonsig MCC & much more. Immerse yourself in the rich and diverse cultural heritage that established the Cape as one of the world's most important culinary destinations.

They've also just launched their new wine bar named after our founding father Simon van der Stel. Enjoy wines from our world-famous region in the relaxed comfort of their new addition SIMON. Pair your favourite glass with our specially designed tapas menu around the cosy fireplace in a heritage building that dates back some 300 years. Now home to some of Stellenbosch's finest and most exclusive wines (including best-selling Stellenzicht wines). 

Enjoy a romantic dinner with your significant other at this must-experience spot. Make your bookings for Valentin's Day here. 

Visit the Rupert Museum
The Rupert Museum showcases the unique private art collection of Anton and Huberte Rupert. Located in the historical town of Stellenbosch, the art museum is set amongst picturesque vineyards and oak trees on the banks of the Eersterivier. The elegant building, which was commissioned by Huberte Rupert in 2003, complements the architectural history, natural beauty and wine culture of the Stellenbosch area.
The Rupert Museum houses over 350 works and can be regarded as the premier collection of contemporary South African art from the period 1940 to early 2000. The predominant mediums displayed are paintings, sculptures and tapestries.
Officially opened in February 2005, the Rupert Museum now shows the best of South African artists such as Maggie Laubser, Irma Stern, Alexis Preller, Walter Battiss, Elza Dziomba, Jean Welz, JH Pierneef, Lippy Lipshitz, Moses Kotler, Anton van Wouw and Coert Steynberg.
Inside is also The Museum Café, which is the perfect place to enjoy a light meal or baked treats and a coffee after wandering through the exhibitions and garden. Sounds like a perfect Valentine's Day date for art enthusiasts and coffee lovers. For opening times and other queries, contact the museum here. 
A Romantic Night's Stay at Oude Werf Hotel
As the oldest running hotel in South Africa, we have a history that spans back over three centuries, surviving multiple fires and evolving into the luxury hotel that you see before you today, dedicated to green hospitality and giving back to the community.
Modern meets vintage at the oldest running hotel in South Africa. With a history spanning three centuries – its intimate luxury combined with chic antique style. Located in the heart of Stellenbosch in Church Street, it's the perfect place to stay and explore.
The Oude Werf Hotel also boasts an upmarket, fusion restaurant that inspires your taste buds with their range of classic South African dishes, topped off with finesse and a selection of the best wines that the Cape has to offer (including Stellenzicht's award-winning Silcrete Cinsault). Make sure to book a table for dinner when you check in. 
Here's a little tip: book directly with Oude Werf and save 10%. This is bound to be a Valentine's Day staycation for the books! Find availability and book here.
Paint pottery at the Ceramic 

Café
Situated on a tranquil property next to Cape Garden Centre on the R44 between Stellenbosch and Somerset West, you will find Ceramic Café factory, painting shed and Café. This is the ideal Valentine's Day date as you are able to let your creative juices flow and your inner Picasso shine! 
How does it work? The Ceramic Cafe does bisque painting. You select a piece of bisque from our huge selection, prices range from R45 – R300 then paint and decorate it with guidance and assistance from their staff. They charge a R55 studio fee for the use of three paints and two brushes as well as glazing and firing of your unique piece. Once finished painting you leave it with them and collect when they notify you, approximately 3 weeks later. You'll have a Valentine's Day memory to last forever! 
Make your reservation here.
It doesn't get more romantic than this! The Wine Pod at Stellenzicht is a tasting experience like no other. It was designed to bring nature into the structure. Because of this, when you are enjoying a glass of elegant Stellenzicht wine and a delicious pizza, you will feel as if you are miles away from the city (although you are only 5 km away from town). 
With breathtaking views of the Stellenbosch and Helderberg mountains on either side of the Wine Pod, it truly is a place where you can come to relax and unwind from the business of life while enjoying good wine, tasty food and great company. 
Join us for a day out at the Wine Pod where 4 of our wines will be paired with 4 specially crafted and delicious tartlets. 
Tartlets and Wine to Look Forward to  
- Thunderstone Rosé paired with a Strawberry Milkshake tartlet
- Thunderstone Chardonnay paired with a Lemon Meringue tartlet
- Thunderstone Red paired with a Date, Dried Fruit & Salted Caramel tartlet
- Arenite Syrah paired with a decadent Dark Chocolate tartlet 
The Details
 Sunday - 12 February 2023
 R130 per person 
 Bookings close on Tuesday, 7 February at 17:00
 Please include your name, contact details, time and pax when booking. Payment will confirm your booking.