Heritage Month Recipe Series: Peach Chicken Curry Paired with Thunderstone Chardonnay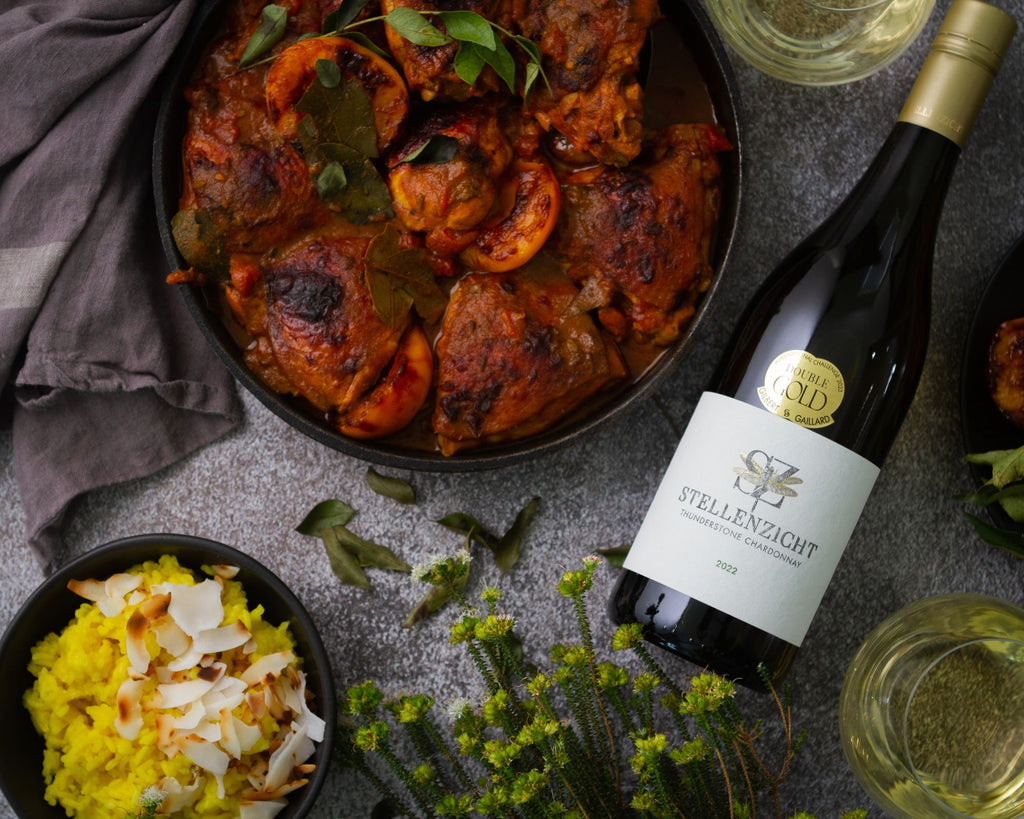 Heritage Month holds importance for all South Africans, and we can agree on is that it should be spent making memories with friends and family, enjoying great food and wine in abundance!


Stellenzicht has put together delicious, traditional pairing recipes - with a gourmet twist - paired to perfection with our Thunderstone Range, in collaboration with renowned chef and author, Elmarie Berry. Make sure to save them and add Stellenzicht wines to your cart so you can recreate these gourmet meals for your loved ones this Heritage Month! 
 This week we have paired our Thunderstone Chardonnay with a Cape Malay Chicken Curry! The Thunderstone Chardonnay's fragrant nose paired with its stone fruit flavours and light oak on the palate compliments the spiced yet fruity nature of this loved dish! 
Did you know? In the beginning in the 17th century, slaves from Indonesia and India were brought to work the farms of Cape Town, South Africa. They came to be known as Cape Malays, and as a result of their influence, curry dishes are widespread in South Africa. Cape Malay curry is known for combining sweet and savory flavors--using sweet spices like cinnamon and ginger, dried fruit (especially dried apricots), and savory seasonings like garlic and onions. Though usually served with rice, this meat-based stew is also great over mashed potatoes or egg noodles.
Save this recipe and make sure to add the Thunderstone Chardonnay to your cart so that you can create this stunning pairing recipe at home! 
Peach Chicken Curry
Serves 4
Ingredients
2 onions, diced.
4 cloves garlic, minced.
1 tablespoon grated ginger
8 Free-range chicken thighs
A few curry-leaves.
1 tablespoon ground coriander
2 teaspoons ground cumin
1 teaspoon turmeric
½ teaspoon ground cinnamon
¼ teaspoon ground cardamom
¼ teaspoon crushed red pepper
2 teaspoons salt
1 can 410g chopped tomatoes.
1 can peaches in juice, drained (keep the syrup)
Salt and pepper
¼ cup water
Instructions
Fry the chopped onion, add the spices and fry for 2 -3 minutes.
Add the garlic and ginger and cook 2 minutes, stirring frequently.
Add the water and then the chicken pieces.
Add the chopped tomatoes, and the syrup of the peaches.
Put in the oven uncovered for 40 minutes until golden brown.
Season to taste.