The Stellenzicht Varietals; why Stellenbosch makes world-class wine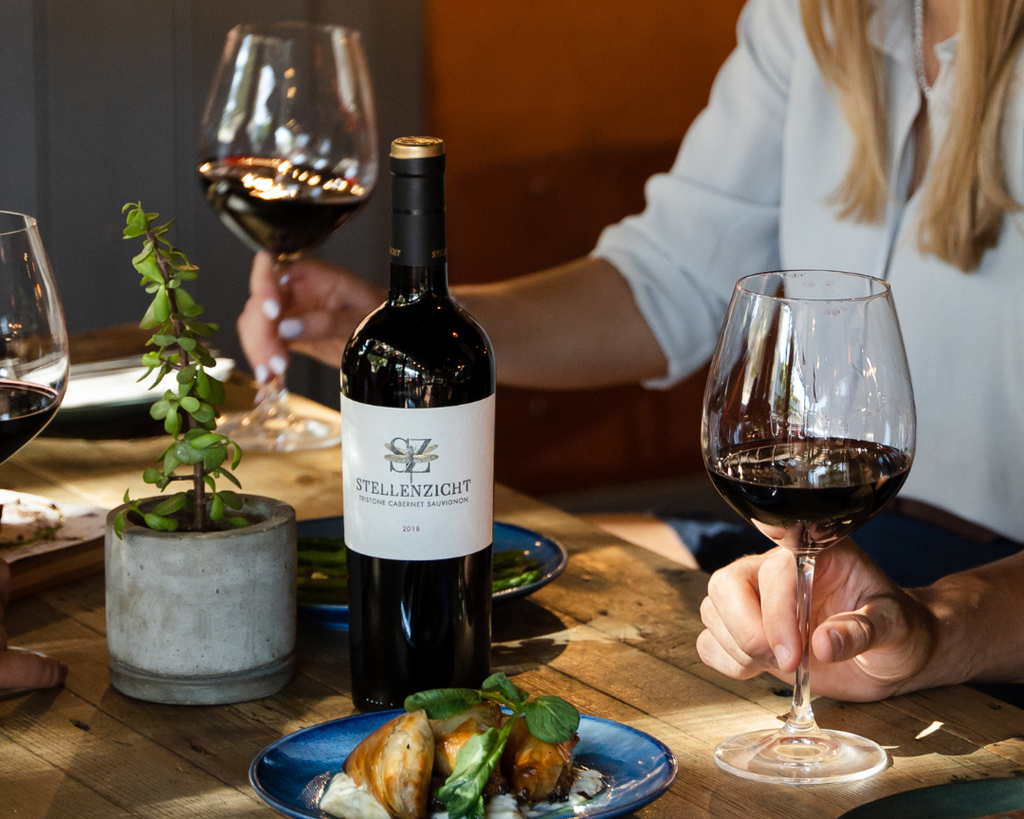 Blaauwklippen (meaning "Blue Cliffs'') iS an unofficial area just southwest of Stellenbosch that is hedged by the Hottentots-Holland Mountains. The region is most famous for its bold, blackberry-and-spices Syrah, and tobacco-laced Cabernet blends. This is also where you will find
Stellenzicht
.
Stellenzicht Wines
nestled on the slopes of the Helderberg mountain, just outside of Stellenbosch came under new, private ownership in 2017. From the onset the young and dynamic team lead by winemaker, L'Ré Hughes, and viticulturist, Nico Nortje, wanted to protect the natural resources on the property through regenerative farming practices. With a focus on Cabernet Sauvignon, Shiraz, Cinsault Chardonnay, the team set out on an aggressive replanting strategy. For the past six years
Stellenzicht
has been replanting vineyards and re-establishing natural eco corridors as part of our efforts to keep nature in balance on the property.


This is why we believe in terroir-driven wines. We let the soils create the very best vineyards and grapes that historically have flourished on the Stellenzicht farm. We don't force what nature hasn't already given us. This is why our range of 8 wines only shows the best of Upper Blaauwklippen and why we've celebrated the grape varieties that made the Stellenbosch region famous.

Cabernet Sauvignon

Stellenbosch has been producing some of the best Cabernet Sauvignons for generations because of the quality of our soils and outstanding winemaking. Stellenbosch is South Africa's largest producer of Cabernet Sauvignon grapes, and it is also the most popular variety in the area because of the unique terroir. Its mountainous terrain, clay soils, good rainfall and proximity to the cold Atlantic ocean make it the perfect home for these vines. The characteristic thick skin of Cabernet ripens fairly late in the year, compared to other varieties. And so, the warm climate and daylight hours displayed in Stellenbosch is paramount to the growth process of the Cabernet grapes, which would otherwise not be able to reach their optimal ripeness and quality.

Arenite Syrah

There's an increasingly good case to be made for syrah as the red grape that Stellenbosch does best – and, certainly in terms of weight of numbers, better than anywhere else in the country. And, not so long ago, Stellenzicht Syrah was bowling the world over.

Stellenzicht made history with the exceptional local and international awards and results for our 1994 Stellenzicht Syrah with John Platter noting in his 1997 guide, '...what might become the priciest, most prized modern Cape wine, the Stellenzicht Syrah'. 25 years later and we're excited to continue this legacy as we pursue excellence and balance in our range of wines including our estate grown Syrah grapes. Our pride and joy is the block of Syrah vineyards grown plant material taken from the original block of Syrah that produced our award-winning Syrah. The legend lives on.


Silcrete Cinsault

It performs well in warmer climates and as such has found a home in many new world wine making regions like the Western Cape. It has a rich and succulent fruity palate with earthy undertones with a vibrant Tannin structure that is light on the palate and promotes aging of the wine.

Stellenzicht's Silcrete Cinsault is a bush vine. The natural ability of a bush vine to regulate its yield is incredibly important in an area where one cannot irrigate. In a dry year, the bush vine will carry fewer bunches and in a wetter year, it'll carry more bunches of grapes. This leads to great fruit concentration and a natural balance when the grapes are harvested.

Enjoy Stellenzicht Varietals


This June, Stellenzicht is running an exciting Wine Pod and online promotion: purchase any two bottles of wine from our Varietal Range and get a complimentary bottle of Thunderstone Red (40% Cinsault, 35% Syrah, 25% Cabernet Sauvignon).
Our award-winning Varietal Range consists of:

🍷 Tristone Cabernet Sauvignon

🍷 Arenite Syrah

🍷 Silcrete Cinsault

Shop online here or make sure to book your table at the Wine Pod for a yummy lunch and to redeem this fantastic offer. Reserve your seat by clicking the link below!